For the latest installment of our Trunk Talks interview series, we had the pleasure of sitting down with Justin Hast, the watch aficionado who has turned his passion into a thriving career. Writing, presenting, consulting, and much more, Justin is one of those individuals who never seems to pause (Justin's email signature is 'win the day'). He's also one of the nicest men you could wish to meet. Join us as we explore his journey into the field and the timepieces that have captured his heart.


Find the The Watch Annual in our Chiltern Street store.
For those who may not be familiar with you, could you please introduce yourself and provide a brief explanation of your work?
I'm a watch and design lover, who accidentally turned that passion into a job. After inheriting my grandfather's Omega Constellation I was hooked. It had it all: style, history & engineering. Since then, I have written and produced films for a number of magazines and brands. From hosting product films for IWC to writing a book on a super cool independent brand called RESSENCE, every day is different. It's a dream come true.

What led you to choose watches as your area of interest?
As cliche as it sounds, I don't think I chose watches, rather I was introduced to watches and just couldn't shake them off! From the first thing in the morning to the last thing at night, I'm always on the lookout for something unusual or interesting watch-wise. I can remember being hooked in the early years on the forums, to antique fairs and auctions - there's just so much to learn and so much to share, watches truly have been a defining love in my life both professionally and personally.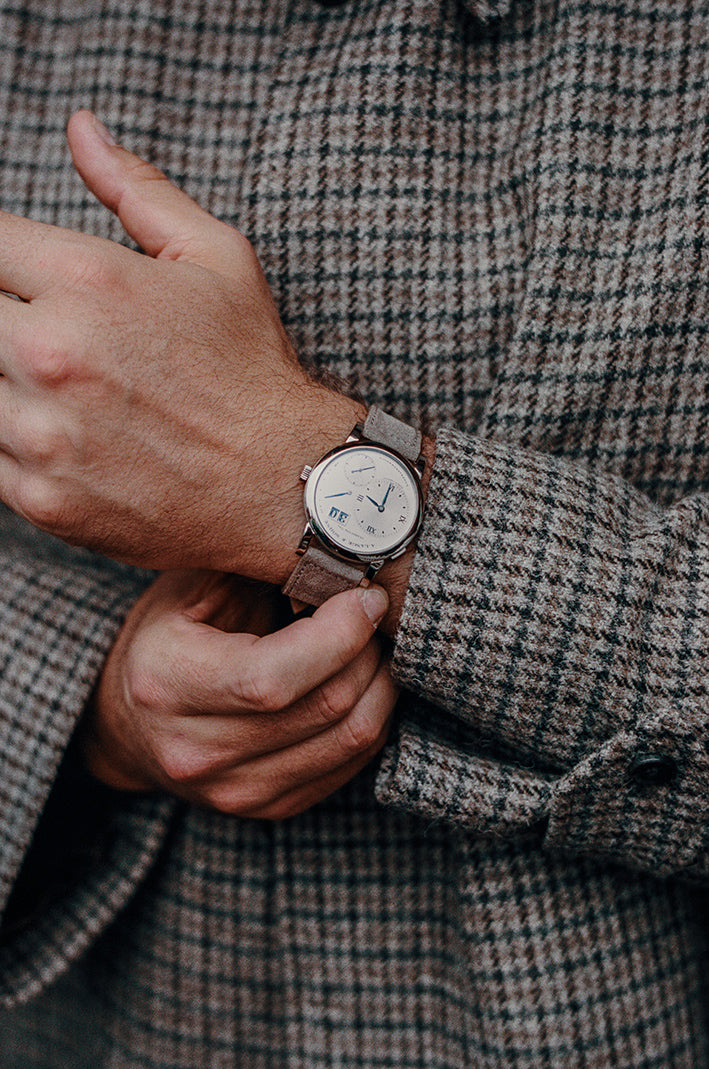 Kaptain Sunshine Gun-Club Tweed Walker Coat | La Paz Santos Baby Cord Cap | A. Lange & Sóhne Lange One 101.027X
In this piece, you've chosen a few different watches to complement your outfits, prompting the question of whether the watch dictates the outfit or vice versa.
Great question. To me, it's always the outfit that kicks things off. I love playing that high, low game, with a chambray shirt, ecru trousers and a super formal dress watch. But always outfit first! Then watch.

Could you share your current favourite watch, whether it's one from your collection or one you aspire to own?
Oppph!! Don't do that to me. It's never easy, simply because from one day to the next it varies so much. My current favourite watch would have to be my FP Journe Eleganté. While it's not a mechanical watch, it's just incredibly comfortable to wear, super functional with a full lume dial and auto set time, and most importantly just pure fun!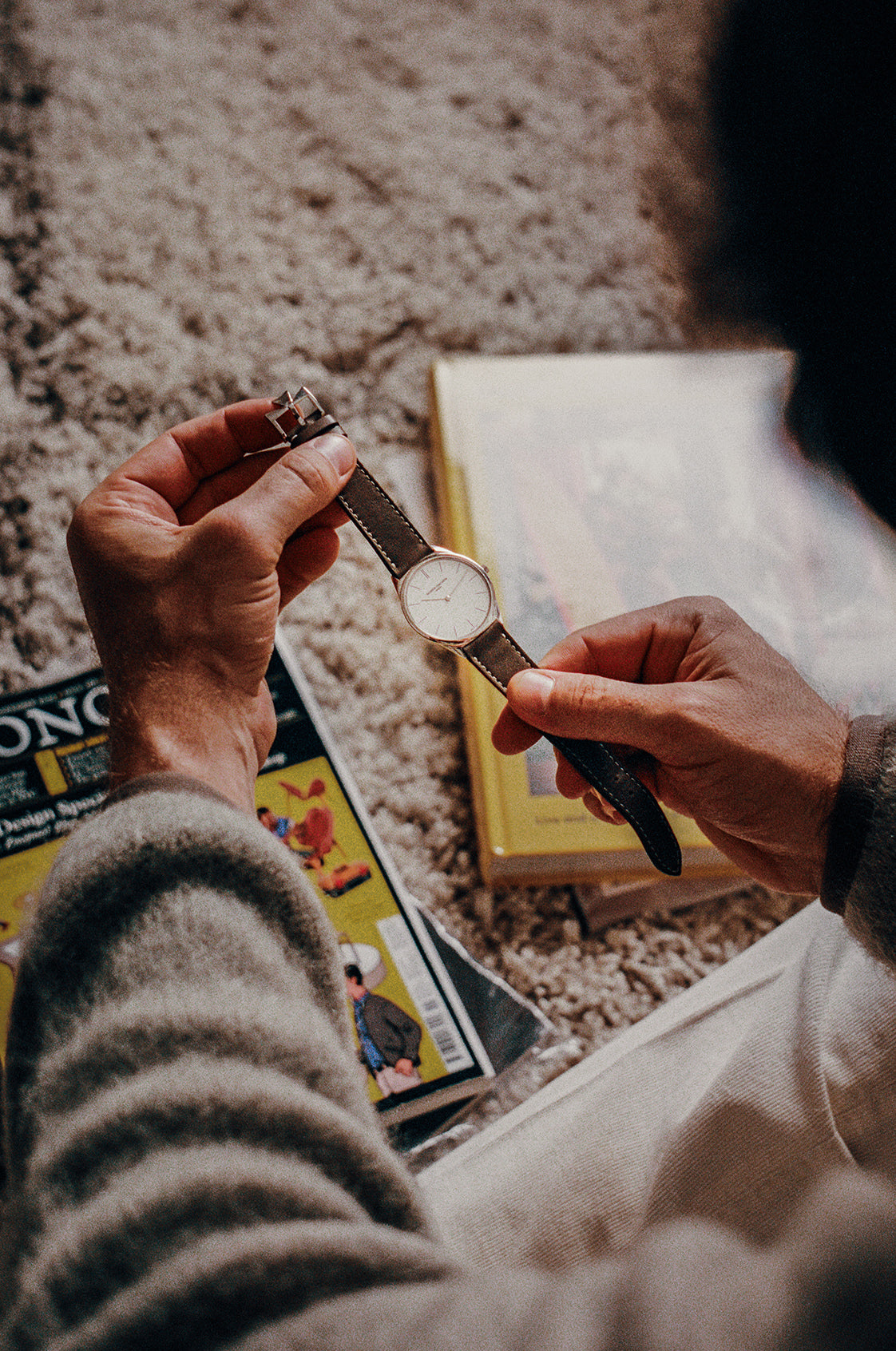 Nanamica Mohair Mix Fleece Pullover | Incotex Regular Baby Cord Trousers | Vacheron Constantin Historiques 1955
Do you have a particular watch that you consider your 'grail piece,' one that is exceptionally hard to obtain?
Yes! In fact, the journey has come full circle and I was able to snag one very recently. It's a Lange 1 (reference 101.027X) from the German makers A. Lange & Söhne. It's a modern-day icon, which as a design came out initially in the 90's. This particular model is one of about 200 made in white gold with a painted dial and blued hands. To me, it's watchmaking at its very best. A perfect 38.5mm size, three-quarter plate movement in German silver which features jaw-dropping hand finishing. It's a watch for you as the wearer, not for anyone else which I love.
Fashion often witnesses trends that cycle in and out, sometimes making a return. Does the world of watches experience similar trends?
I'd say so. We went through a period where big case sizes were in (think 46mm Panerai on Sly Stallone and Arnie). To where we are today with rappers like Tyler the Creator wearing tiny, 33ish mm Cartier dress watches. We are very much in a period of anything goes - which is fantastic. Gone are the days of men's and women's watches, as well as the rules around what you should wear, with what and when. Watches are much like shoes and tailoring, an expression of yourself and that's what matters most.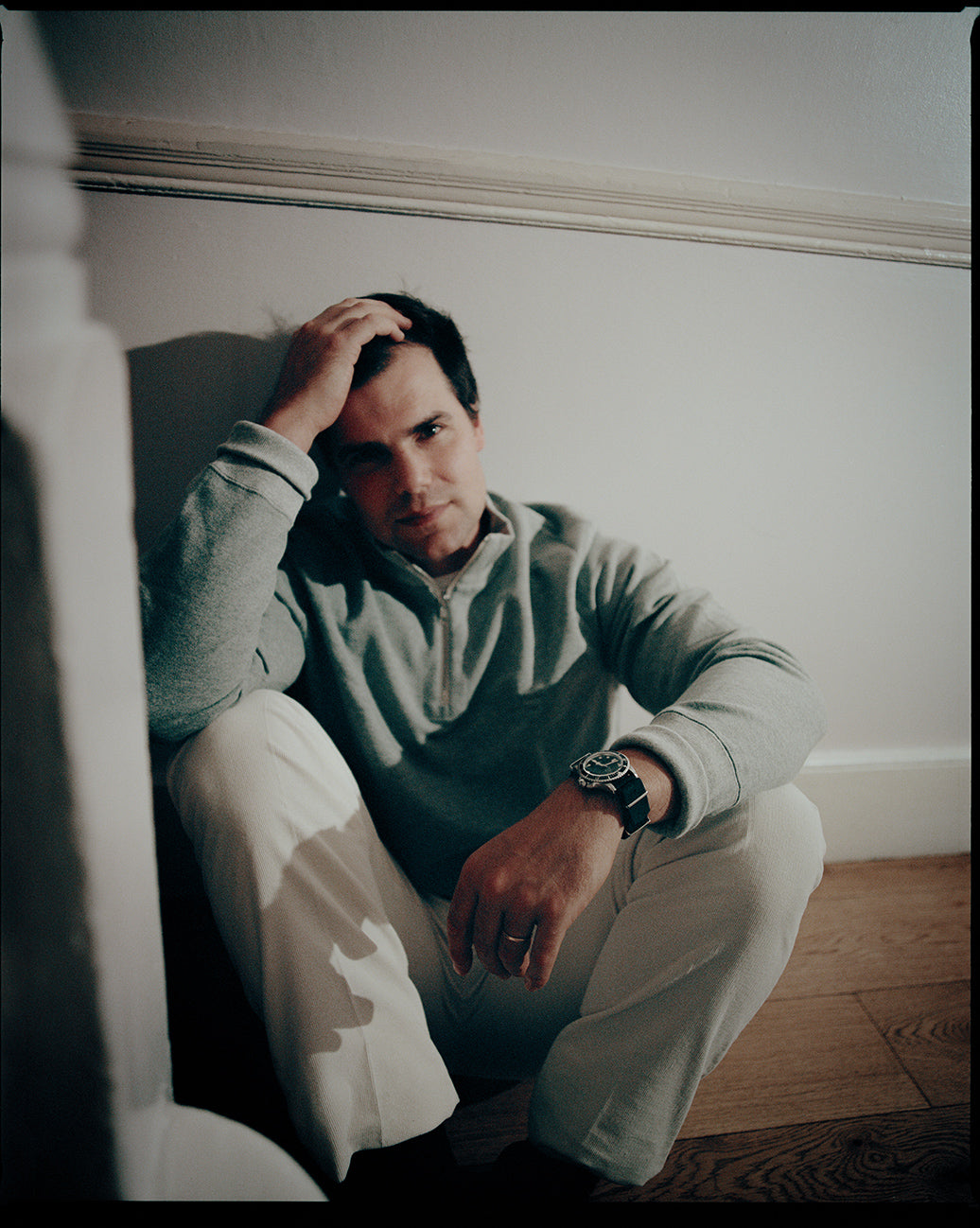 Merz b. Schwanen 343Z Half-Zip | Trunk Ebury Organic Cotton Ventile Jacket | Tudor Submariner Snowflake 7016
If someone is looking to make their first considered watch purchase, what would you recommend?

Absolutely go out there and see all the makers, and try on as many watches as possible. You will soon get a feel for what you like. They say it's brand first, then design and then movement that dictates our buying decisions which I tend to agree with. Set a budget and go with your heart. Just don't forget that condition is key (if buying pre-owned) and you will be the one wearing it - nobody else (unless you have a partner like mine that sometimes gets into my drawers!).
Finally, do you have any exciting new projects that you're working on that you can tell us about?
I'm incredibly excited about hosting a film series with IWC, where I will be interviewing owners from around the country. It's coming out this Christmas. I have also just finished the fourth edition of my book, 'The Watch Annual,' which is packed full of 100 new watches launched this year from 76 global contributors.
Thank you, Justin!