The best British fabrics are thick with history. Take tweed: in the dictionary, it's just a woven woollen fabric with a rough finish, but the name conjures centuries of local craft and rural life across Britain and Ireland.
Traditionally made in hardy weights and earthy colours, tweeds and twills were designed for countryside work and leisure: farming and fishing, walking and shooting. Their twin merits were protection from the elements and resistance to wear and tear. More casual and robust than their city equivalents, they also became prized by professorial types from Oxford to New Haven for the same reasons. Today, they bring cold-weather comfort and character to any classic wardrobe.
The place most strongly associated with tweed is Harris, an isle in the Outer Hebrides, off the west coast of Scotland. Weaving had been vital work in the tough and beautiful landscape of the Hebrides for generations, but until the middle of the nineteenth century, the cloth was only used locally or sold at island markets. A shared identity for Harris cloth emerged in 1846, when Lady Dunmore, widow of Charles, Earl of Dunmore, had the family tartan replicated by Harris weavers.
The cloth spread far beyond the isles, and in 1909 the Harris Tweed Association was formed to protect and promote it. Since then, workers from neighbouring isles were invited into the fold, and the name Harris Tweed was regulated by an act of parliament. Wool is still handwoven at home by independent weavers, and finished by three mills: on Stornoway, Kenneth Mackenzie, and on Lewis, Carloway and Harris Tweed Hebrides.

There's a similar story from the heart of English cloth-making, Yorkshire. Abraham Moon and Sons began in 1837 as a small producer connecting the local industry in Guiseley, on the edge of the Yorkshire Dales, to buyers in Leeds. As Abraham and his half-brother William entered the trade, country tweeds and twills surged in popularity across Victorian Britain. The business grew and so did the mill. Yet the process remained consistent: bales of unprocessed wool are dyed, spun into thread, woven into fabric and finished under the same roof.
Today, Moon is one of the last remaining vertically integrated woollen mills in Great Britain. It specialises in classic country fabrics such as lambswool twills and herringbones, as well as eveningwear barathea and a range of furnishing fabrics.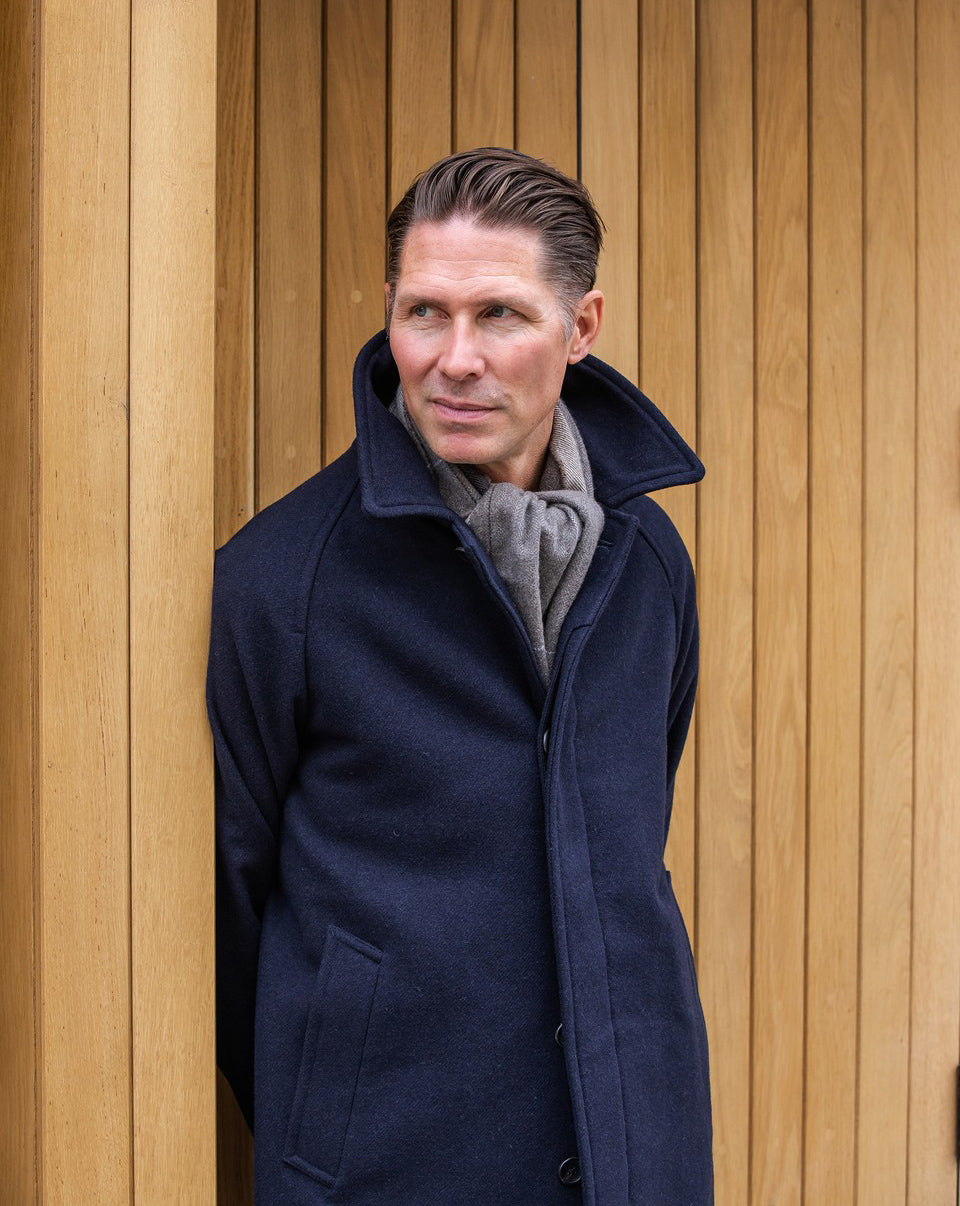 In an age of indoor heating and insulation, heritage cloths have become finer and lighter than the thornproofs and flannels of previous centuries, but in other ways, little has changed. This season, Trunk presents a woollen winter coat with all the substance and charm of its ancestors. It's offered in two distinctive cloths from these storied makers: a richly textured navy twill from Moon and a classic grey Prince of Wales check from Harris Tweed. Both are robust, heavy fabrics that stand up to harsh conditions just like their ancestors.
The coat itself is a perennial casual design that's equally at home in country or city: generously sized, with a soft shoulder, flattering A-line silhouette, slanted hip pockets and a stand-up collar to flip up for extra protection and style. Horn buttons complement the natural wool fabrics. At once hard-wearing and easy-going, restrained and yet full of character, it's the perfect all-conditions winter garment.