Founded in 2009 by Cathrine Lundgren-Andersen and her late husband, Peter Kjær-Andersen, the Danish knitwear brand Andersen-Andersen epitomises the ethos of doing one thing and doing it well. Their calling? Creating the finest sailor sweaters in the world. In the latest instalment of our Trunk Talks series, we had the privilege of sitting down with Cathrine to gain insight into their unyielding dedication to craftsmanship and quality and also uncovered Cathrine's insider tip for savouring classic Danish smørrebrød in Copenhagen.

Discover Andersen-Andersen online and in-store now in both London and Zurich.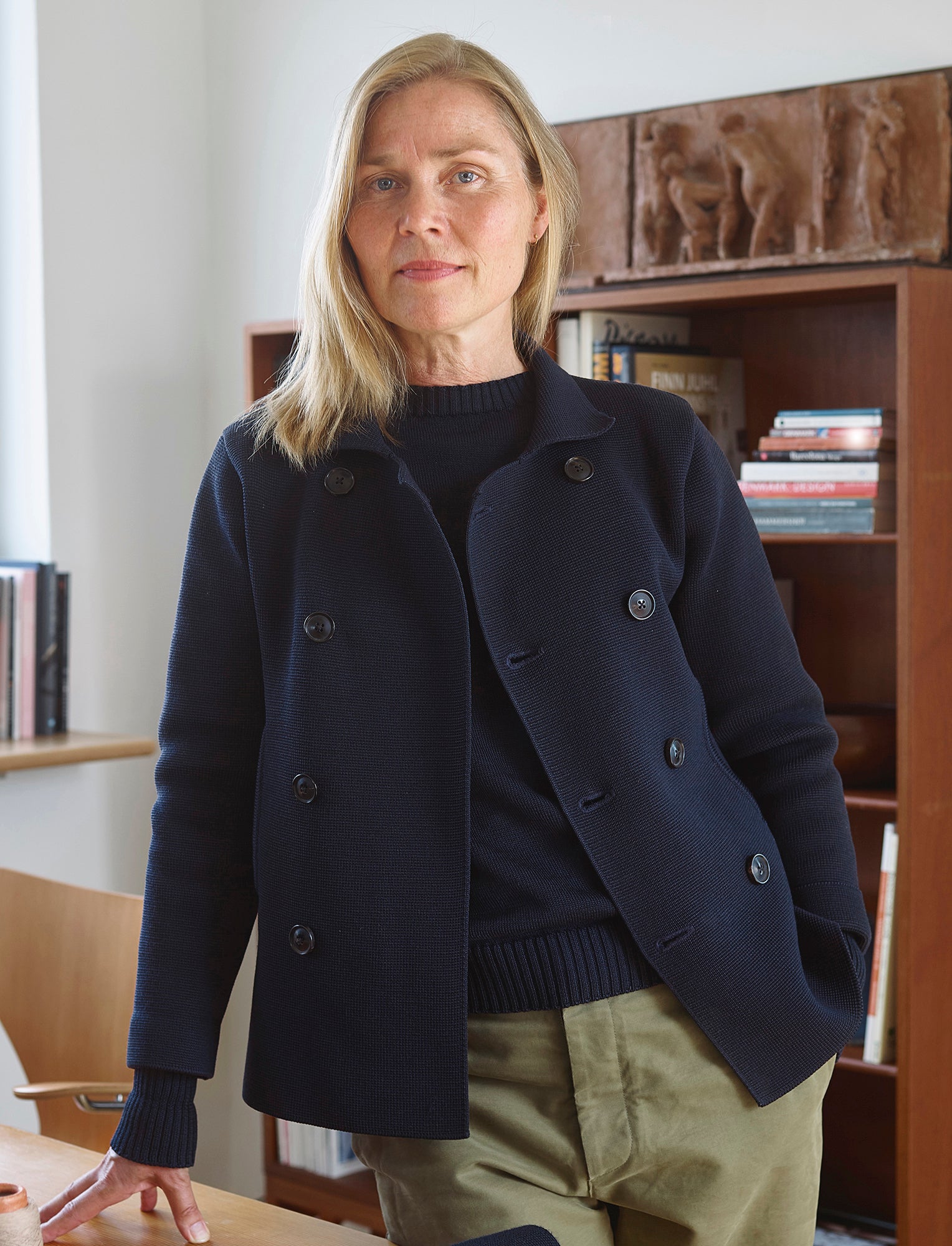 Cathrine Lundgren-Andersen, co founder of Andersen-Andersen
Can you give me a little bit of background story on Andersen-Andersen, how did the brand come to be?

I was a designer, and (my late husband) Peter was a graphic artist. Although we knew each other from our youth, it wasn't until 2009 that we met again, fell in love and decided to start our own company together. We knew we wanted to start something, just not exactly what, other than it had to be one thing, designed and made with uncompromising quality. In reality, it could have been anything. A chair, some cutlery, or perhaps a lamp. But of course, it ended up being a sweater. Peter found an old, washed-out fisherman sweater at a second-hand shop, which sparked the idea to make the world's best sailor sweater, and although it was an extremely ambitious goal, in many ways, we have succeeded in exactly that. We started with selling a single style in five different colours, and now we have over 20 styles available in 16 colours.

You're based in Copenhagen, manufacture in Italy, and source wool from Patagonia and Uruguay. Can you talk about the materials and craftsmanship that go into creating Andersen-Andersen products?

This was a long process that started with a local production in Denmark, however, we were not satisfied with the quality. It had to be better and more robust, and the fit improved. That's when we started investigating different spinning mills around the world. We went to southern Germany, the Faroe Islands and Iceland - they were good, but it wasn't perfect. Then, through a lead, we had contact with an Italian spinning mill, which was able to start developing with us. And they, including the knitting factory, are who we still work with to this day. We knew our knitters were technically skilled, but it took some time for them to understand that we wanted to produce a highly dense quality sweater. We decided on wool from Patagonia and Uruguay because of the robust, durable wool you can get in this region and because the mulesing process is unnecessary for the sheep.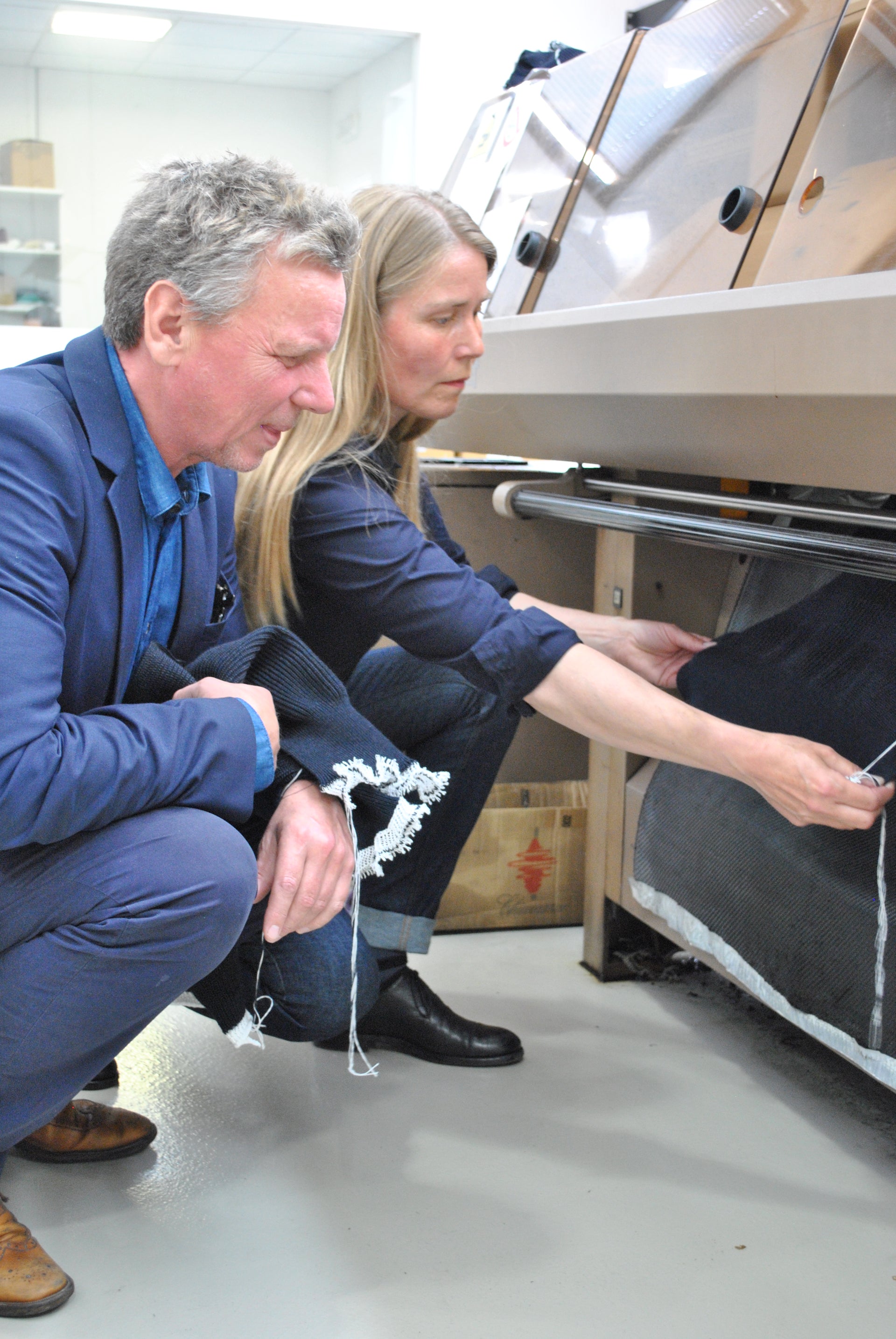 Trunk is stocking your Seaman series. While these pieces look familiar, the symmetrical design and T-shape feel unique. Can you tell me what inspired this? Is it a heritage design?

When we first launched the Seaman series, we aimed to make a slightly lighter sweater option alongside our heavy-duty sweaters. We were obviously inspired by the classic Guernsey-style fisherman sweater but we wanted to make it our own. We have a long tradition of maritime knits in Denmark, so we looked back to historic styles found here. The symmetrical aspect was directly in line with our existing styles meant to be worn either way, front or back. We kept the t-sleeve shape, as it allows for extreme flexibility in arm movement, then embedded a triangle shape within the knit at the collar for a better fit on the body. Although there are similar styles within our knitting history, we consider our Seaman styles an improved version for future sailors.
The world feels like a turbulent place at the moment. The cost of almost everything is rising and there is a heightened emphasis on sustainability and the environment. What challenges has Andersen-Andersen faced, and how have you overcome them? Can you discuss any recent innovations or changes within the brand that you are particularly proud of?

One of our steadfast rules from the beginning is just as important today as it was back then – that is to create quality clothing. Quality will always be a sustainable option because it's the option that lasts. We have always been very democratic about pricing, opting for a lower margin so the final consumer price is as affordable as possible. It can be a challenge to have a low margin, but we have been able to overcome this with steady, organic growth over the years, selling to many different countries worldwide.
You just launched a very cool collaboration with Popeye magazine, a favourite publication of ours. Do you have any other upcoming projects or plans for Andersen-Andersen that you can tell us about?

Collaborating with Popeye has been a really fun process, and we're so happy with the results! We have a few similar projects underway, but everything is still in the development stage. We like to take a long time to develop a new colour or style to ensure it is correct and works within our existing collection.
Finally, Mats, Trunk's founder, and director, is always seeking out the best Smørrebrød when in Copenhagen. Do you have any local recommendations for any of our customers who have yet to visit the city?

I would love to recommend a special place that only a few tourists know about, but most Danes know called Café Gl Torv. It's located directly across the square from our headquarters and flagship store, so we often eat lunch there. They serve delicious, classic Danish smørrebrød, all made from scratch!
Thank you, Cathrine!