Words by Alex Freeling


--


With clean designs and muted colourways, Batoner knits don't shout for attention, but to those who know they're unmistakable. Celebrated for their impeccably precise finish and distinctive ribbed patterns, they're dense, hard-wearing pieces that wear with a lightness and ease.
You could be forgiven for thinking that Batoner was a relative newcomer. The Japanese brand has been producing sweaters, cardigans and knitted accessories for a decade, but its story begins half a century earlier with the birth of its parent company. In 1951, knitwear manufacturer Okuyama Meriyasu opened its doors in Sagae City, Yamagata Prefecture, the heart of the Japanese knitwear industry. Surrounded by Mt. Gasaan and Mt. Asahi, the area is a haven for craftsmanship and home to numerous storied makers, as well as the wool spinners and dyeing factory which supply them.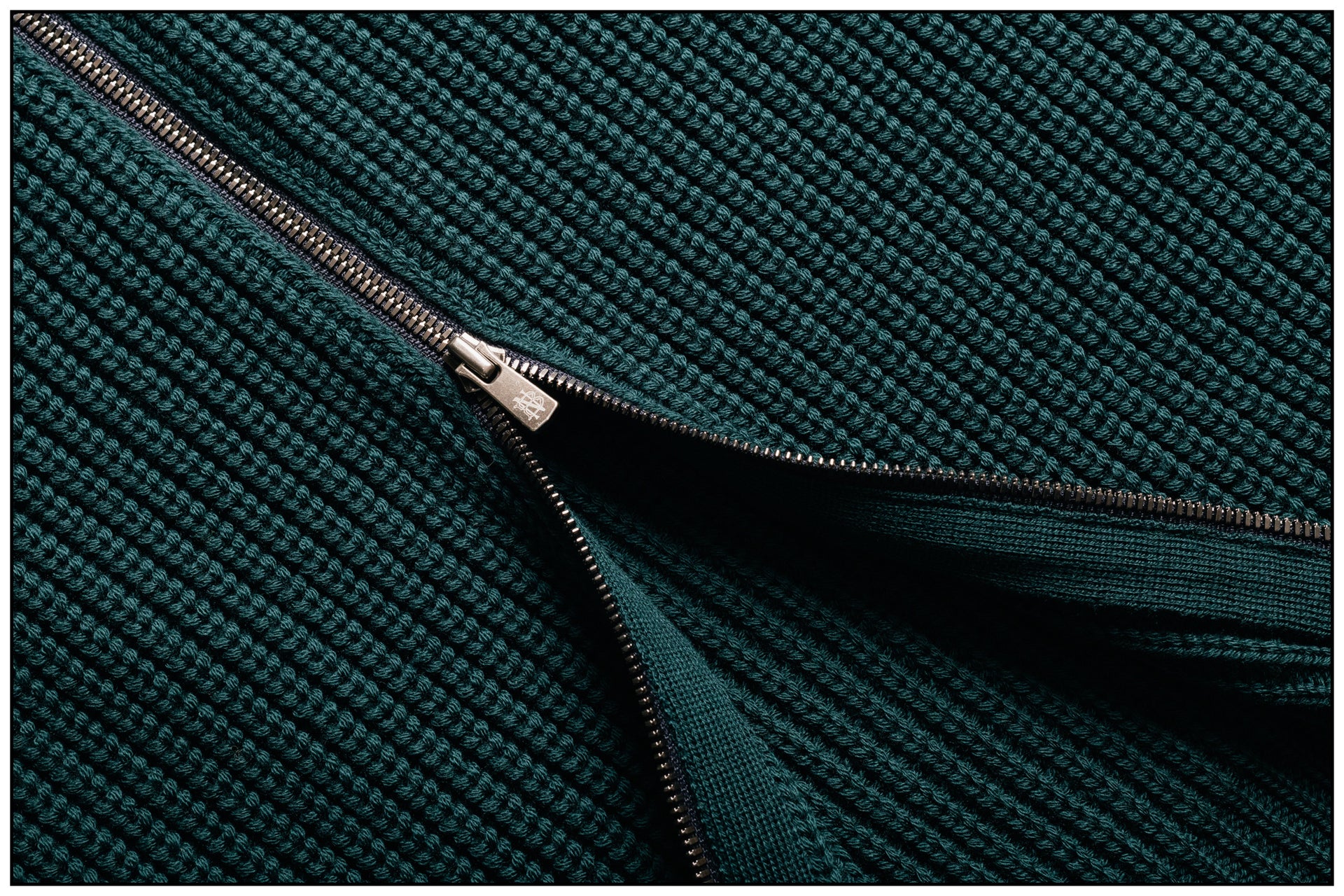 Through the postwar period, Japan shifted away from textile production into heavy manufacturing and tech. As the national focus migrated, many Japanese makers began to move garment production overseas. Okuyama Meriyasu elected to remain in Japan, focusing instead on improving manufacturing technology and quality rather than embracing cheapness and speed. The sensibility of being made in Japan is still very important, the brand says, but it's become rare.
Kohei Okuyama, the third-generation CEO, launched Batoner in 2013 as the company's in-house brand. With Batoner, Okuyama Meriyasu designs from the yarns through to the finished garment. The brand is new, and the machines modern, but the manufacturing methods incorporate handwork that's unchanged for three-quarters of a century. Batoner's Japanese buyers and customers speak of a craftsman's attitude that is visible in every garment: the exactness of every rib in every knit; the specialist yarns that resist pilling; the density and texture that are achieved without producing a bulky or heavy garment.

This season Trunk is stocking two versatile and classic pieces in Batoner's trademark ribbed knit. They're dependable layering pieces for cool spring days and mild summer evenings, lightweight but luxurious thanks to their specially selected Supima cotton. The tightness of the weave, achieved using a proprietary spinning technique with twisted yarn, makes the knits richly textured and long-lasting, yet they wear surprisingly lightly.
The Batoner Signature Driver's Knit is a modern zip-through cardigan with a distinctive rib stitch. It's a sporty, modern take on the cardigan, usable as a mid-layer in cooler weather, but equally as an outer layer thanks to the clean design and textural interest. With a slim cut and a stand-up collar, it's like a lighter, softer, bomber jacket. When it comes to styling, the driver's knit is supremely versatile, equally at home with jeans and a tee at the weekend or worn over a shirt and tailored trousers for a comfortable alternative to a jacket that remains sharp and office-appropriate.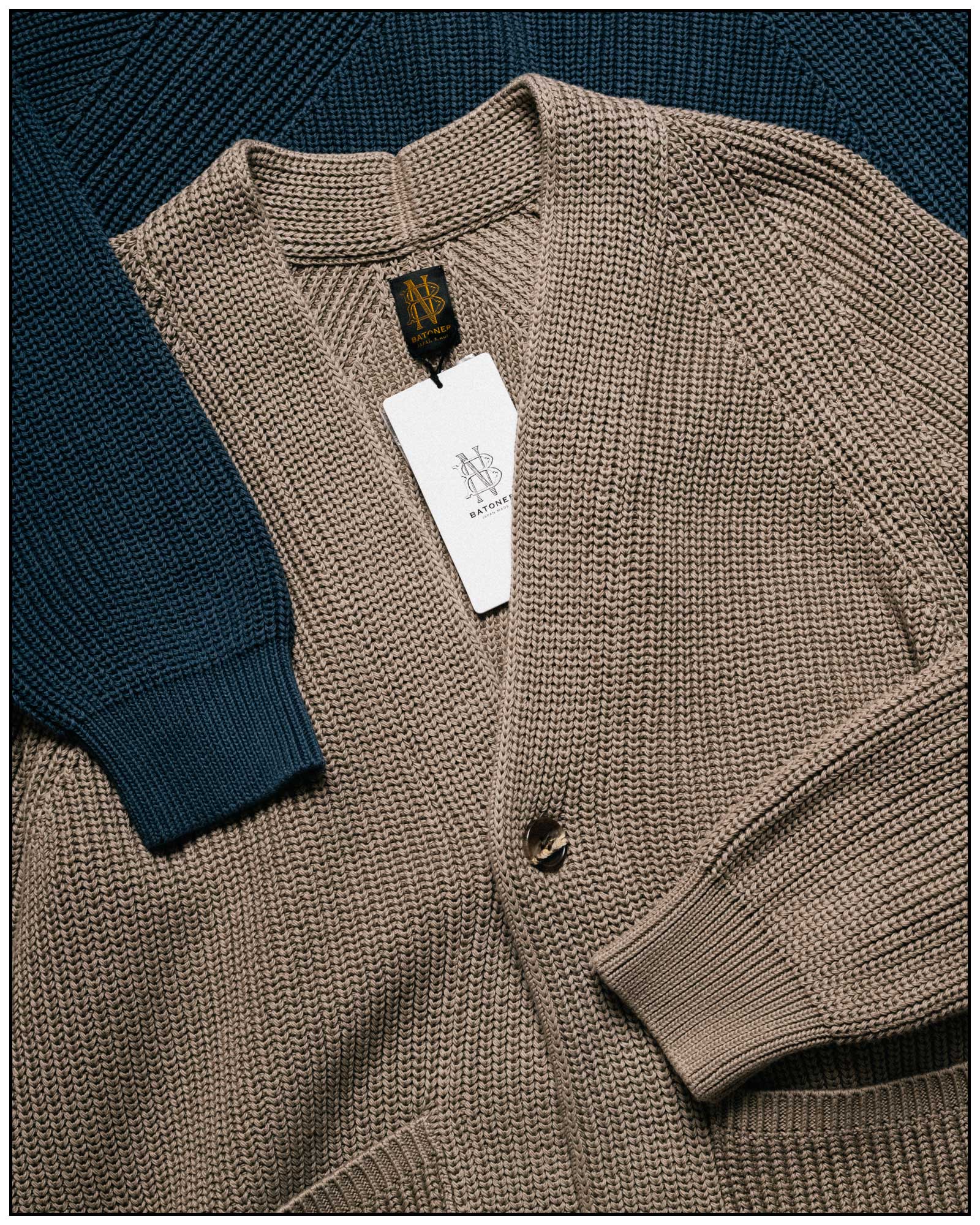 "It's a decidedly traditional design that brings to mind relaxed mornings spent at home or in coffee shops."
Its cousin, the Signature Button Cardigan, is a classic model with clean, minimalist styling. With its rib-stitch placket, shawl collar, raglan sleeve, and small hip pockets, it's a decidedly traditional design that brings to mind relaxed mornings spent at home or in coffee shops. But it's elevated by a one-button closure that brings to mind both the shawl collar dinner jacket and the Japanese noragi. A natural partner for denim and chinos, it's an elegant casual piece you'll keep coming back to.